We hope you had a lovely half term. It was only a fortnight ago but that is a long time in school life. We have a new monthly value of resilience and we may need it over the next few weeks as we get busier and busier in the lead up to Christmas! Yes I said it!
If you thought the last newsletter was long, this one is more like War and Peace. It will take you at least two cups of tea to get through it! Enjoy!
Learning disguised as fun!
We try and make learning practical, fun and where possible linked to developing life skills. In maths, year 5/6 have been making fruit kebabs and smoothies. This incorporates skills such as measuring, weighing and ratios.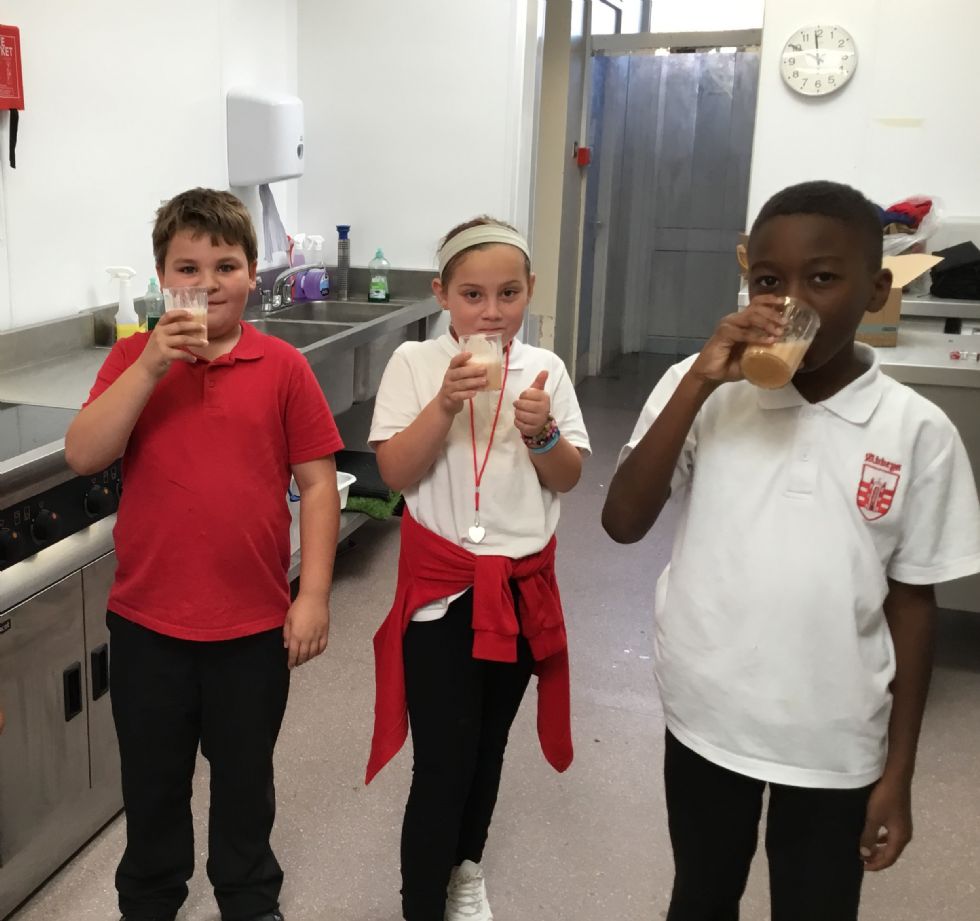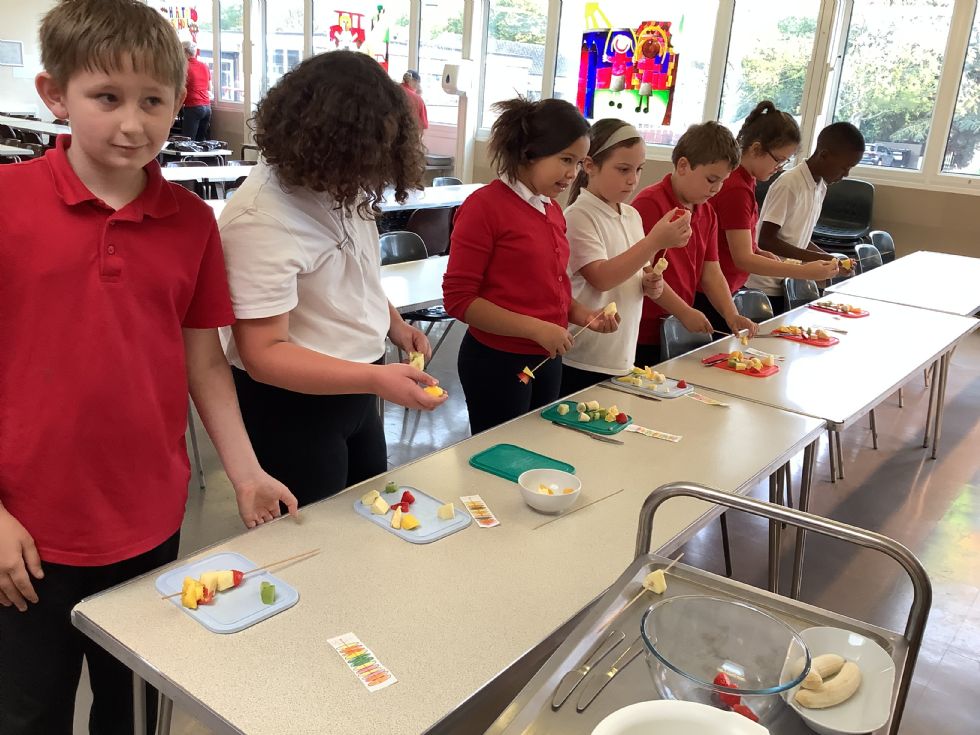 This week years 5/6 took part in the Bletchley Park experience. A day long workshop to introduce their World War II topic. If you haven't already been Bletchley Park is worth a visit and local residents get a huge discount!
"Residents living within a 10 mile radius of Bletchley Park can enjoy 50% off our standard admission prices, all year round. Pay once and come back for unlimited return visits within a year!" https://bletchleypark.org.uk/
Our Early years pupils have been busy! Their curriculum is very different to the rest of the school. Looking at these photos, it is clear to see they are developing key skills such as collaboration, perseverance, independence and resilience! All aspects of our core Abbeys' values. Well done Whitby and Fountains, we are all proud of you!
Friday 18th November is Children In Need Day and we are going for the theme....
WEAR WHAT YOU WANT!
Spots, Spider-Man, football kit or pyjamas you choose!
£1 donation for this excellent cause!
ROLL UP, ROLL UP!
We will have a tombola at the Marc's Christmas fair this year. Claire Howell and Karen Doyle have kindly offered to run a small stall at the Fair in order to raise money for the school library. We are asking for donations of Tombola prizes. Wine, chocolates and unwanted gifts will be collected via the school office over the next couple of weeks. If you have anything that you think would make a suitable prize, please bring it along.
SEN @ Abbeys Primary School
Did you know that at Abbeys we currently have 264 pupils on roll, 53 children out of 264 are on the Special Needs register. This means that 20% of our school have an SEN need.
There are 4 areas of SEN, these are-
Cognition and learning
Speech, language and communication [including Autism]
Physical and sensory or medical
Social emotional and mental health
As a local authority school, we follow the graduated approach, information on this can be found here:
Information on how Milton Keynes council support children with SEN (local offer) can be found here:
Mrs Louis White is now the inclusion lead. Should you have any concerns or questions please do not hesitate to contact us.
The staff at Abbeys are very well-trained to support pupils with additional needs. One area that I know we have excellent provision for is Autism. We have at least 25 pupils at Abbeys with a confirmed diagnosis of Autism and like other mainstream schools we are capable of and expected to, deal with an increasing complexity of need.
Sometimes children with Autism can have Autistic meltdowns in school, whilst some children mask their difficulties all day and then have meltdowns at home. We call this 'being in crisis'. This looks different for every child, as every autistic child is different. The pupils at Abbeys cope really well with the needs of their peers and our pupils are very supportive of one another, they are non-judgemental and understanding. https://www.autism.org.uk/
Trips and visits
We have a lot of trips and visits over the next few weeks. 5/6 are planting trees with the Parks Trust and we have cinema visits and walks planned. We always need adult helpers so if you are able to come along then please speak to your child's class teacher.
If the thought of your child going on a school trip fills you with anxiety, please come forward and share your concerns- hopefully we can offer some reassurance!
KS2 Carol concert
All of KS2 [Years 3,4,5 and 6] are invited to come along and sing at St Mary's Church on Thursday 8th December for our annual carol concert. We haven't had a carol concert for the last 2 years, due to COVID, so I hope that this one can be really special.
Time TBC.
Attendance and punctuality
Covid has had a detrimental impact on school attendance across the world. We need to get back on track with learning and to do this we need pupils in school every day and on time.
The register is taken at 8.50am. The playground is open from 8.30am. Being just 10 minutes late for school means your child is missing key learning opportunities.
Mrs Jamieson is our School attendance officer and she will support you and your child if attendance and punctuality are becoming a cause for concern.
If you feel your child may need additional support because they are suffering with Emotionally Based School Avoidance there is more help out there. The Local authority, who are working with the MK Psychology service, are running parent and carer workshops. Visit- www.milton-keynes.gov.uk/MKSEND to find out more.
Hard hats at the ready
Steadily,over the next few weeks the work to demolish Mellish Court will begin. If you have any questions related to this why not pop in to our community event and share you concerns. Wednesday 16th November 2.30pm-6.30pm.
In addition to the Mellish Court work we are having a new Foyer area extension at Abbeys. The work will commence in the next 3 weeks and we will have a temporary office area down by the Library.
I will keep families up to date on the works and how this may impact on us all logistically! I am sure the mess will be worthwhile.
Even Mrs Warburton and baby Cleo are getting in on the action! Look at those little odd socks!
ODD SOCKS!
Today we wore odd socks to celebrate anti-bullying week which is next week. In circle times and PSHE, pupils will discuss the subject of bullying and the impact of bullying on mental health and wellbeing. Bullying can happen to adults as well as children, it can happen in school and in the wider community. Online bullying can be significantly harmful and this is why I urge parents/ carers to check their child's use of social media frequently.
At Abbeys, we take bullying very seriously. It is important that children can speak out and share their concerns with school staff so that issues can be dealt with correctly. We are lucky that incidents of bullying at Abbeys are very rare.
There are four key elements that we consider when looking into incidents-
Was it hurtful?
Is there evidence of repetition?
Is there a power imbalance between those involved?
Was it intentional?
Bullying behaviour can be:
Physical – pushing, poking, kicking, hitting, biting, pinching etc.
Verbal - name-calling, sarcasm, spreading rumours, threats, teasing and belittling.
Emotional – isolating others, tormenting, hiding books, threatening gestures, ridicule, humiliation, intimidating, excluding, manipulation and coercion.
Sexual – unwanted physical contact, inappropriate touching, abusive comments, homophobic abuse, exposure to inappropriate films etc.
Online /cyber – posting on social media, sharing photos, sending nasty text messages and social exclusion
Indirect - Can include the exploitation of individuals.
The school day can be very, very busy. Sometimes pupils may feel like teachers do not have time to listen to them and they may bottle things up. If you feel your child needs a 'check in' from a member of staff, please email the office and one of the support team will endeavour to speak to them confidentially.
CAN YOU GUESS WHOSE ODD SOCKS THESE ARE?
There is a prize for anyone that can guess who these feet belong to!!!
Email your guesses- 1, 2 and 3 to Jfellowes@abbeysprimary.org
[They are all teachers/ support staff].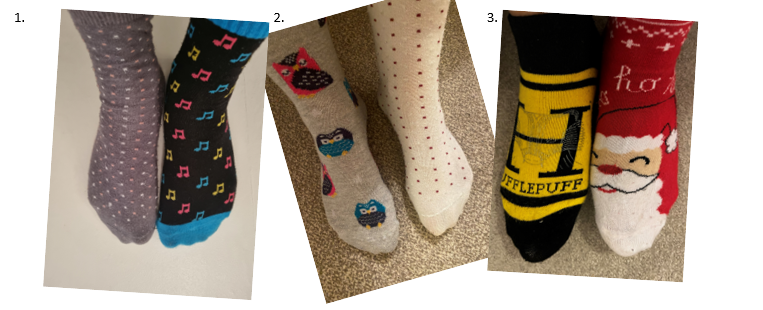 SHOUT OUTS
So many shout-outs this week!
Well done to Jack and Jasper, who spent half-term developing their Ice-skating skills. They both significantly improved over the week and have grown in confidence on the ice!
Zidaan Hakim-ali has completed stage 1 in swimming and his sister Ameera has completed stage 3!
Well done to you both.
Swimming is a very important life skill!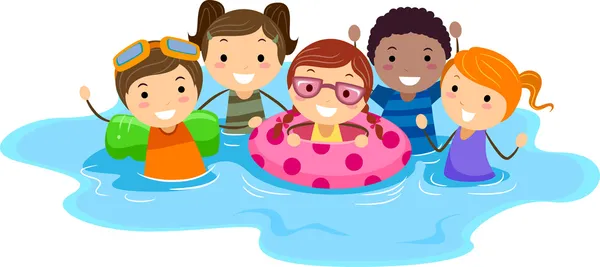 Good Luck to Tyler-Jane who has her floor and vault competition on Sunday 13th November. We have our fingers crossed for you !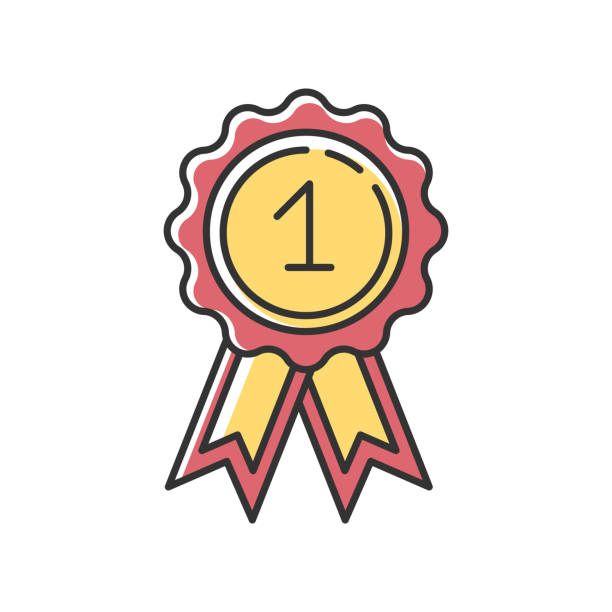 Ziyaan's Mum is breaking all the rules with this shout out! But not only is she proud of Ziyann for overcoming challenges and working hard, she also wants a shout-out for the teachers!
And I couldn't agree more!
"Thank you, Miss Harrison, Mrs Vicarage, Mrs Dunnett & Mrs Clark for being so kind, understanding and welcoming. When my son started at this school, I was just as overwhelmed as he was, over the last year and a bit, he's come out of his shell, made so many friends and loves coming to school. Thank you for taking care of all your class children and going above and beyond to meet their needs!" from Zi's Mum!
ALFIE NEIGHBOUR also deserves a shout out. He has grown in to a fabulous, helpful BIG Brother and always helps with baby Millie.
Well done Alfie!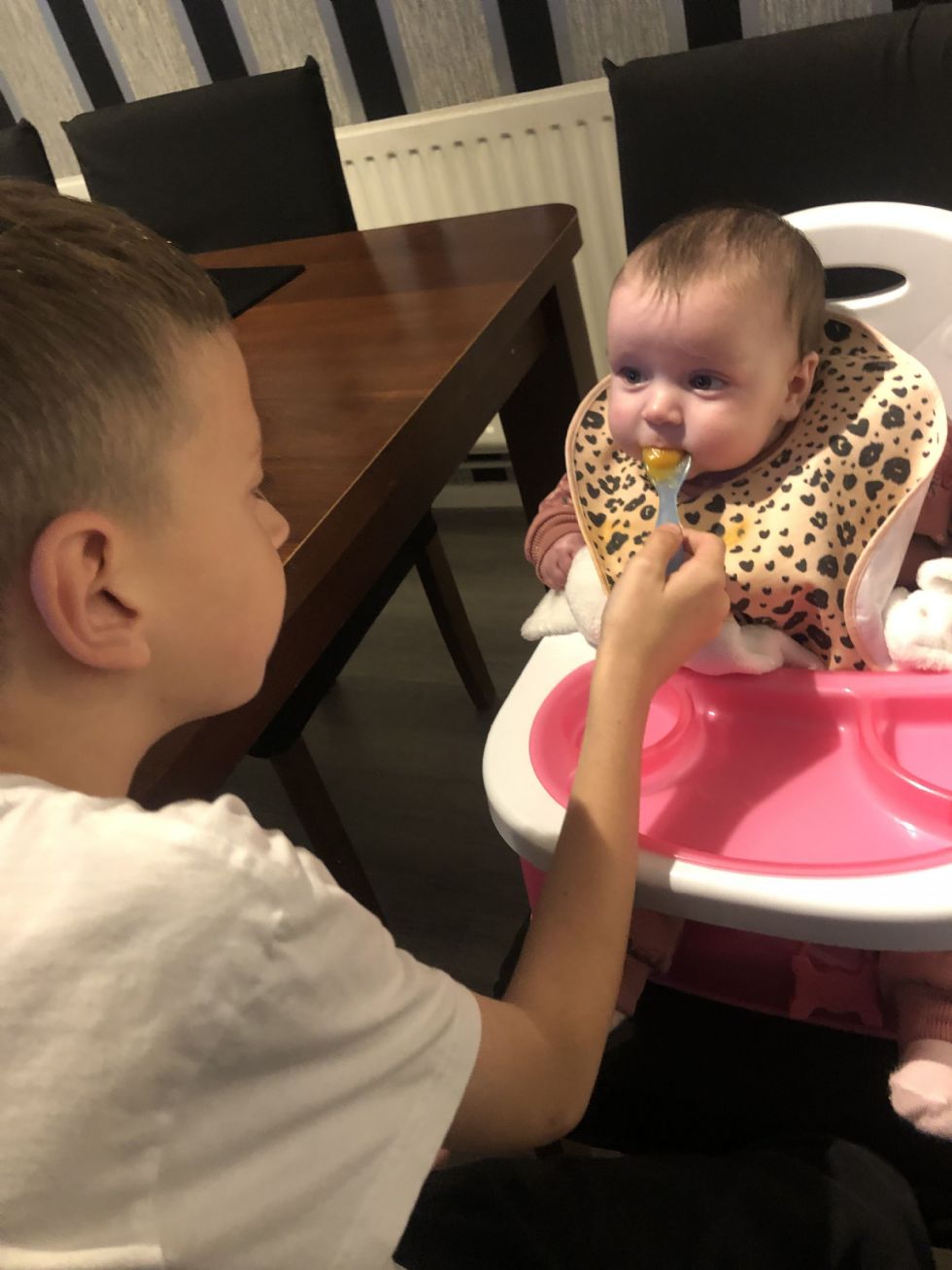 WHO'S BEEN MUGGED?
We are continuing to celebrate members of staff that go above and beyond for our school and pupils.
The second member of staff to be MUGGED is Miss Lou. Louisa certainly deserves this award as nothing is too much trouble for her. When I ask Miss Lou to do something her usual answer is 'it's already been sorted'. As well as being a fantastic problem solver, Miss Lou also supports the children at lunchtimes. She's empathetic and kind.
Thank you Miss Lou!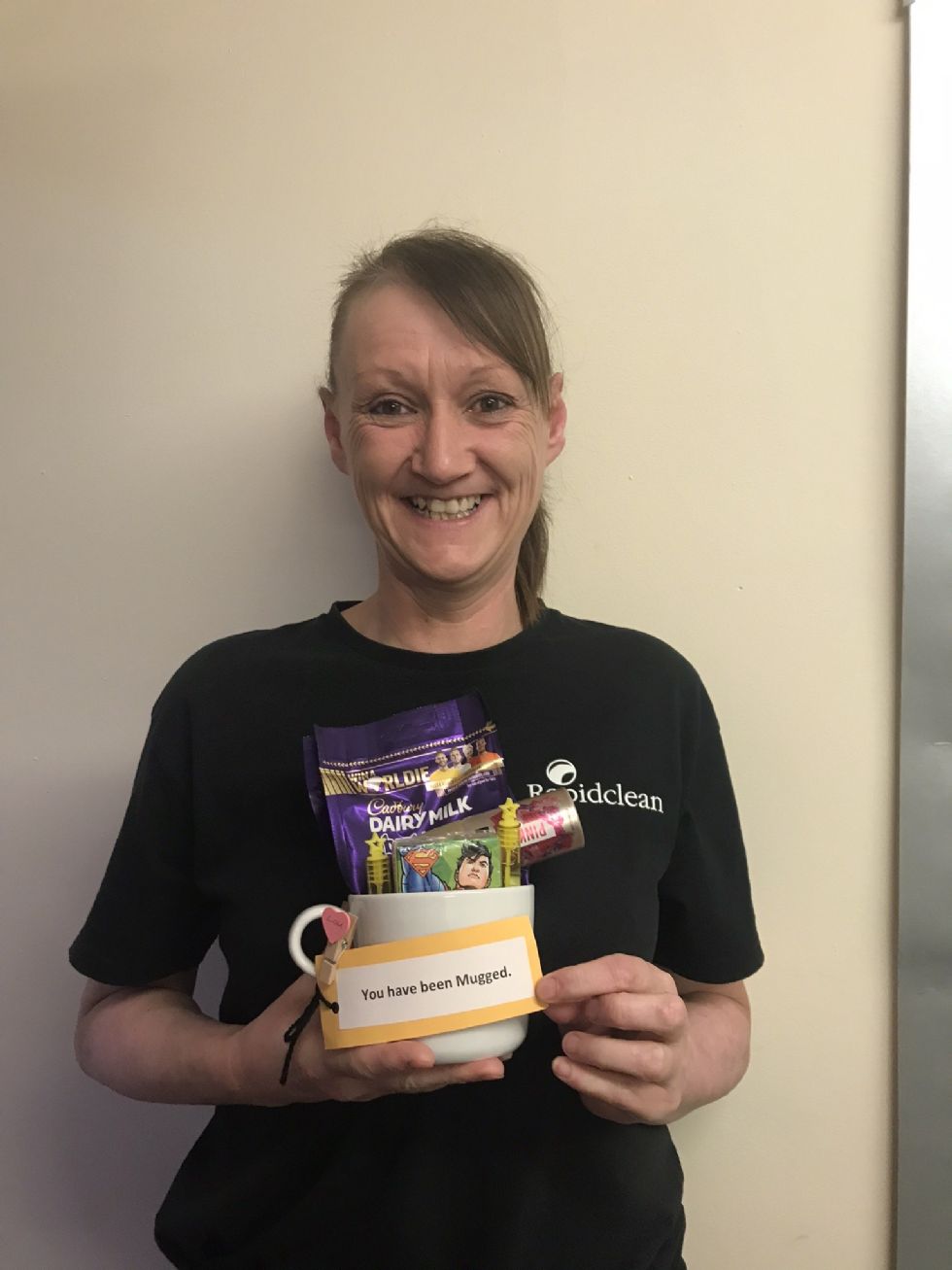 FINALLY!! Evie has lost her first tooth.
Congratulations to you Evie! What a beautiful smile you have!
They're CREEPY and they're KOOKY, MYSTERIOUS and SPOOKY, they're altogether OOKY.....
The ABBEYS FAMILY!
Congratulations to all the children that entered the pumpkin carving competition for Halloween. It was lovely to see families working together and enjoying quality time. Here are some of the entires.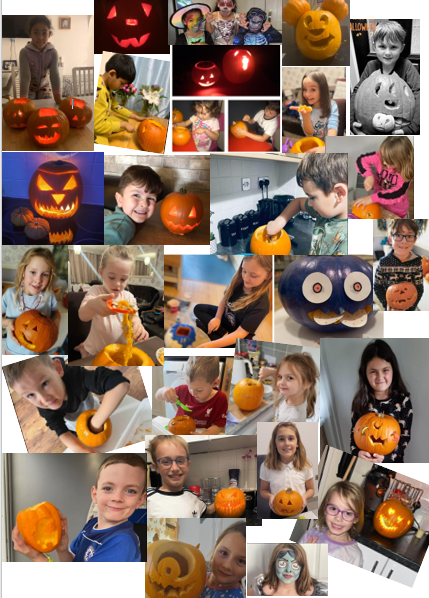 Before half-term we had a fantastic inset session with Adrian Bethune. We learnt about Wellbeing in the classroom and how to embed ideas subtly into our curriculum.
The thing that struck me about the training was around the theme of belonging and responsibility. We heard a clip from Ian Wright and it was really powerful, it shows the importance of the pupil teacher relationship.
Click here if you'd like to hear it- https://www.youtube.com/watch?v=a4VHhvnw3AI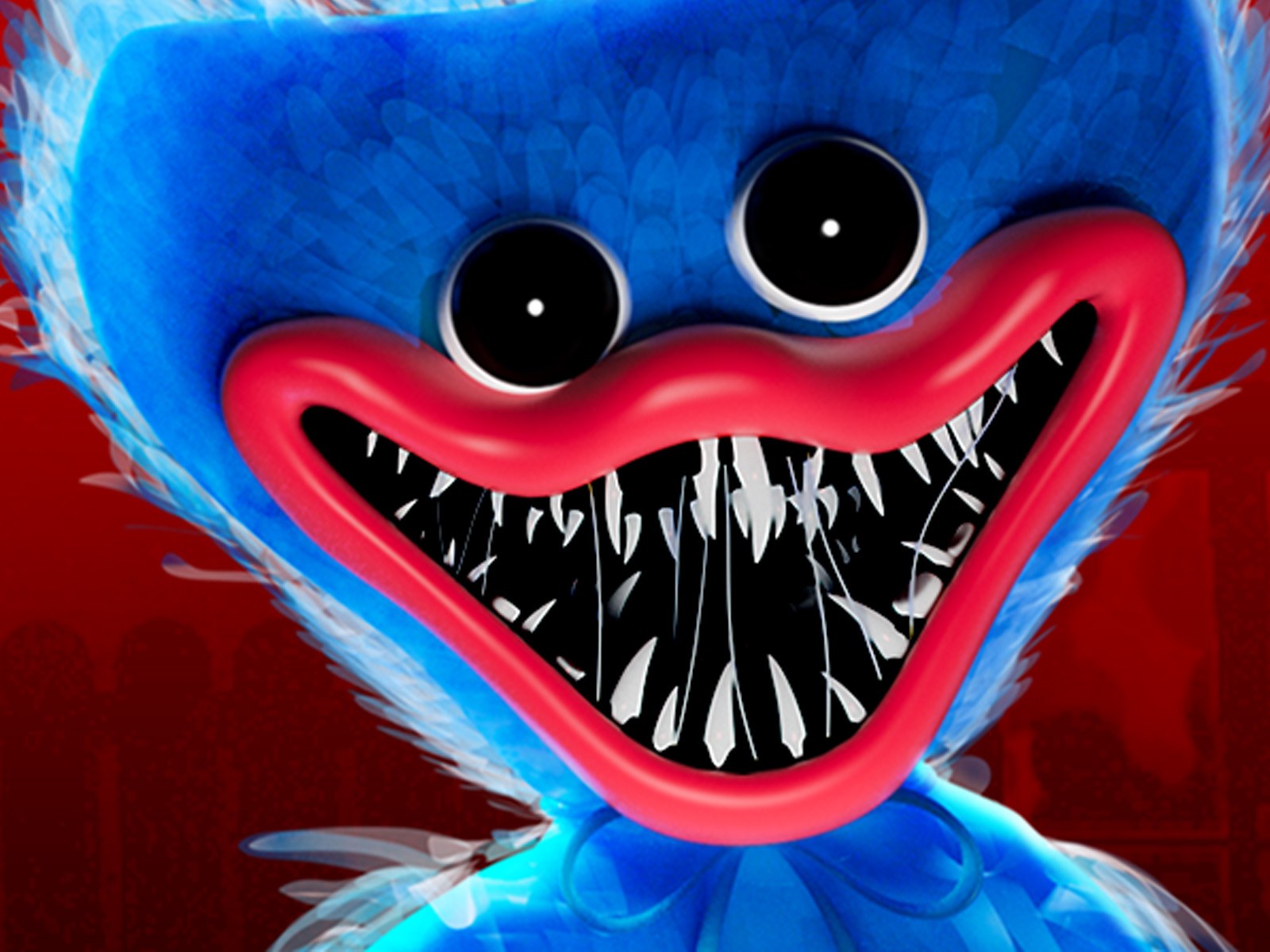 INTERNET SAFETY- Who is HUGGY WUGGY?
Huggy Wuggy is a character from many games that your child may be accessing. Originally he was a character in Amongus but more recently this has evolved and he appears in games that are 18+. Please keep your child safe online, check the content of the games they are accessing and play alongside them to ensure they are not afraid by the content. More support can be found online at- https://www.nspcc.org.uk/keeping-children-safe/online-safety/
DID YOU KNOW... there is lots of information on our school website. My favourite page is the staff page, where you can find Bitmoji's of all the staff at Abbeys and their roles. Even Frenchie has one! Have a look!
They are very funny!
Visit: https://www.abbeysprimary.milton-keynes.sch.uk/page/?title=Staff&pid=23
!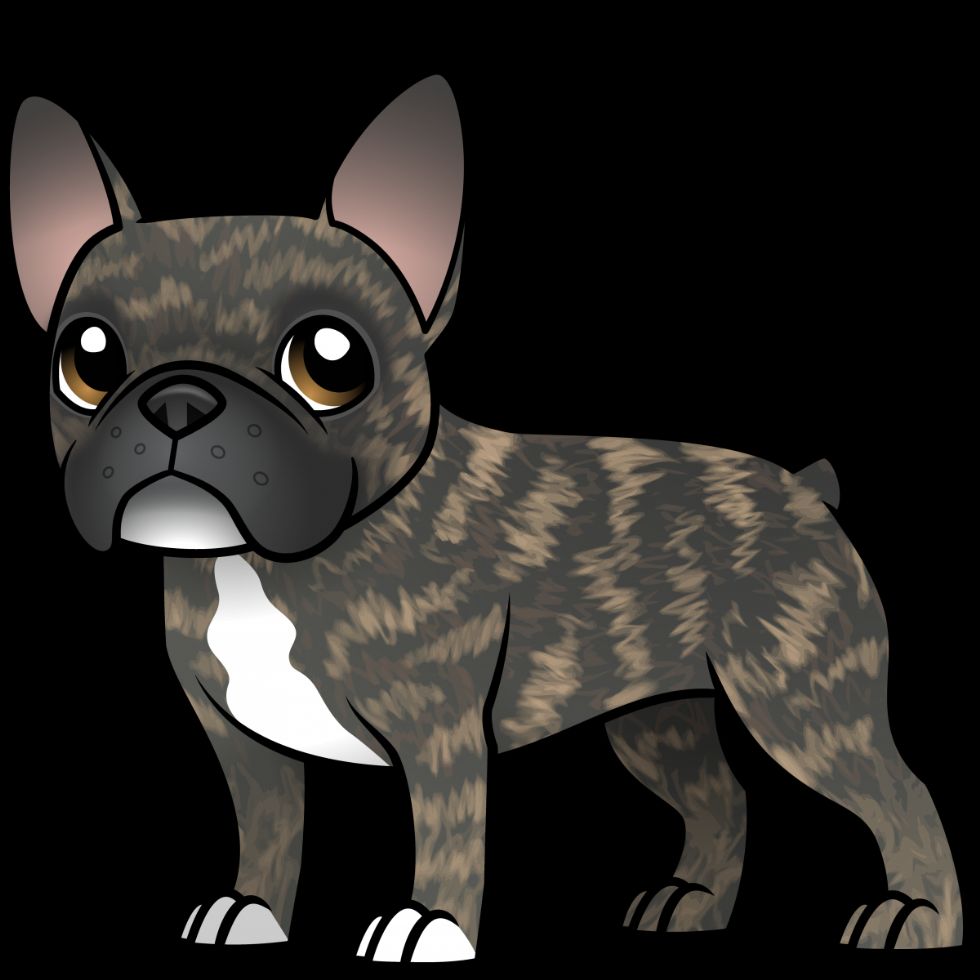 If you haven't already, follow our school Facebook page! The link is below. Within that page is a private group for Parents/ Carers only- where I will share photos.
Please remember if you are not happy with photos of your child being shared you must update your permissions via the school office.
Dolce
We have had a huge uptake for school dinners and they are very tasty! We are still getting use to the new system but it will be worthwhile! 160 cooked dinners on a single day last week!
It is important that if your child has a packed lunch it is healthy and nutritious. I am seeing a lot of processed foods and chocolate which is concerning. If you need any support with this or you have a fussy eater on your hands with please email me or Mrs Louis White as we may be able to help.
Sickness bugs, coughs and colds
It is that time of year again and we have a lot of little bugs going around.
If your child has sickness and diarrhoea we ask for at least 24 hours away from school.
Please call the office and discuss this if you are not sure.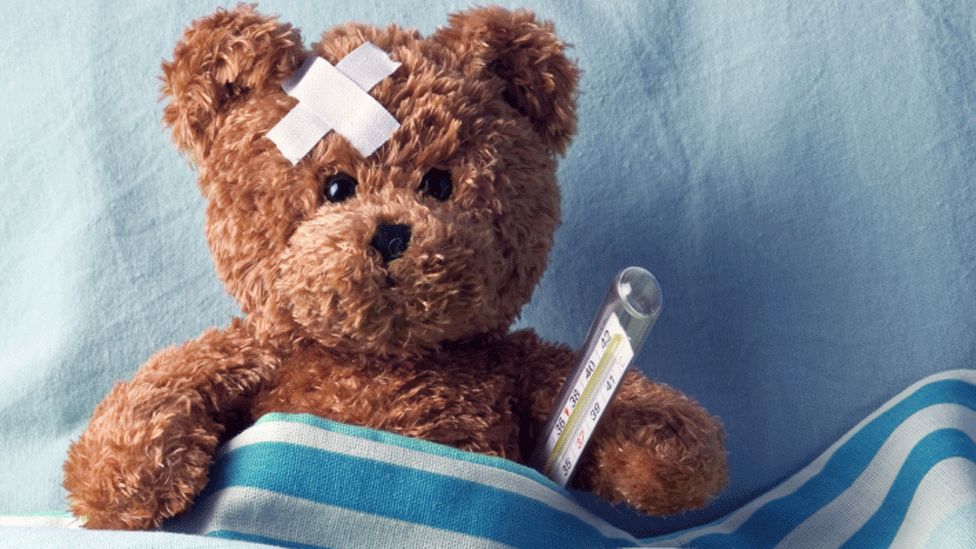 You asked... we delivered!
THERE IS A HUGE 200 CHILDREN ATTENDNG CLUBS AT PRESENT!
We have a wide variety of clubs going on this half-term.
Monday- Football with Mr Godfrey/ Mrs Jamieson's cookery group.
Tuesday- Homework club/ year 5/6 boosters.
Wednesday- The library is open. Please enter via the playground.
Thursday- Main clubs night.
Friday- The staff all need a rest!
HAVE A LOVELY WEEKEND EVERYONE!