Welcome back! This is the first newsletter of the academic year and what a wonderful start it has been.
Welcome to all our new families and to our new Foundation Stage children- who have settled in really well and made a great start to school life.
The start of term can be a hard time for many, getting back into the swing of things. If you have any concerns please raise them sooner rather than later.
CURRICULUM AND LEARNING
If your child is in years 1-6, you will have received their Curriculum Overview and Pick a Mix Homework. This is a newer more condensed version with a greater emphasis on reading at home.
Reading is one of our school development priorities. We use Read, Write Inc (RWI) in school and teach the children to become fluent readers by the end of year 2. We are finding that many of our children are not reading at home and this is hindering their overall progress.
We try to encourage reading for pleasure as much as possible. We have various online platforms that your child can use such as Oxford Reading Buddy, the RWI Ebook library, Purple Mash and don't forget the library in school is open until 4pm every Wednesday.
On our website there is a whole page dedicated to RWI, including videos and practical ways to help your child.
Reading daily is the most important part of your child's homework, please sign their planner to show what reading has been done at home.
The children have made a fantastic start to their current topics. At the start of each topic the teachers plan an exciting day to get the children hooked into their new learning.
Years 5/6 had a special Titanic day. Each class took a workshop that explored this significant event. We examined the timeline of the Titanic being built, the different people on board and the sinking of the ship. We had the opportunity to express ideas and feelings through role play. We also took part in a quiz and listened to some of the music that would have been played on board. After the workshops, we watched a video on how to interview, answer questions and practised hot seating with each other being in role as the captain!
Years 3/4 had a fantastic Roman hook day. They spent the day creating their own mosaics and Roman-style pots; learning about Italy's geography as the centre of the Roman Empire, and cooking and sampling a range of Roman recipes. Most of them agreed that the biscuits and cakes were delicious! In fact, they tasted a lot like modern-day pancakes and scones! However, some of the foods that the Romans introduced to Britain - such as coriander, plums and celery, didn't go down so well!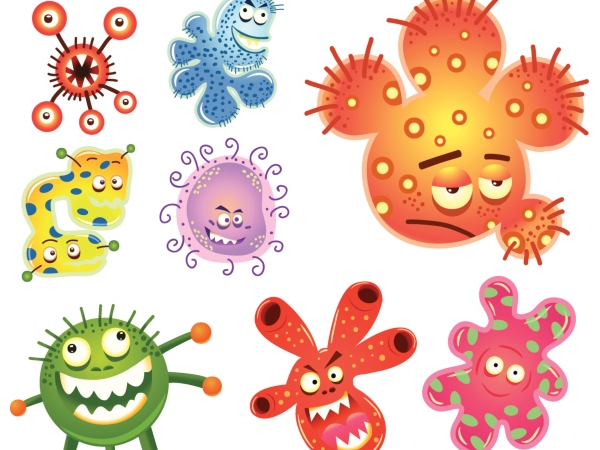 There are already lots of little bugs around. It is important to keep as healthy as possible over the winter months.
Please do not keep your children off of school unnecessarily. We will always send children home if they appear to be under the weather.
If a child is sick or has diarrhoea we like them to remain at home for at least 24 hours after. Rashes or spots should always be checked by a doctor. Whilst most of us have our own children, we are not doctors so cannot offer medical advice.
COVID- There are no longer specific rules for schools and there is no obligation for you to test your child for COVID. If your child tests positive and are unwell they should remain at home for 3 days.
On the 3rd November we will be having FLU IMMUNISATIONS in school. Please complete the forms that will be sent to you via Teachers to Parents.
Congratulations to Ella who can now ride her bike without stabilisers! This is a huge achievement- well done Ella and it's so good to see that you are wearing your helmet too!
Congratulations to David! Over the Summer he attended the MK DONS football camp.
He spent 6 hours a day playing football and achieved Player of the Day! He was super proud of his achievements and wanted to send an email so he could be in the newsletter!
Paige Freed has been busy with another gymnastics competition in her new group. She achieved 1st place on the bars element which she has been practising lots. She also remembered her entire beam routine and landed her cartwheel dismount! Congratulations Paige! What an achievement!
Jake Freed went to his first fun ride, 5 miles round Stowe Landscape gardens and then he went to Wing Jumping and Dressage Centre for his first showjumping competition. Velvet looked after him on both trips and he came home with a 3rd place from showjumping. Fantastic Jake! Well done.
What a busy family you are!
Harry learnt to fish over the Summer!
He went fishing for the first time with his Dad and landed his first catch!
Well done Harry!
Congratulations to Harmony and Tahlia who completed the summer reading challenge. They had to read 6 books in 6 weeks and gained a medal and a certificate for their efforts. Tahlia was especially proud of herself as she couldn't take part last year as she couldn't read! But now she can! Harmony was proud of herself as its now 2 years in a row and she could choose harder books.
Well done girls- great effort- keep it up!
It's started again! Miss Cahill has been mugged by Miss Sarah Oakley! This is because Miss Cahill goes above and beyond for all the staff and children at Abbeys! She is a helpful colleague who always has amazing ideas!
And for the first time I have received a shout-out! It's from the Hakim-Ali family. 'For always being there for the children as well as the parents, no matter what the situation is!' Thanks for your kind words- it made my day!
WHAT'S ON?
There are lots of events coming up. I hope that you have synchronised your diaries!
The school calendar is on our website should you need more information.
Last year we worked hard as a team to create our own curriculum for Mental Health and wellbeing. We have created a caring culture at Abbeys and we teach our pupils the importance of having a positive mental wellbeing and the strategies they can use to help themselves when times are tough.
As Parents/ Carers we want to help you to help your children.
Please come along to our Parent/ Carer session to find out more.
Key members of staff in school to help
All our staff have training in mental health and wellbeing, inclusion and safeguarding.
This notice is in your child's planner should you need to refer to key adults in school.
Please remember the door is always open.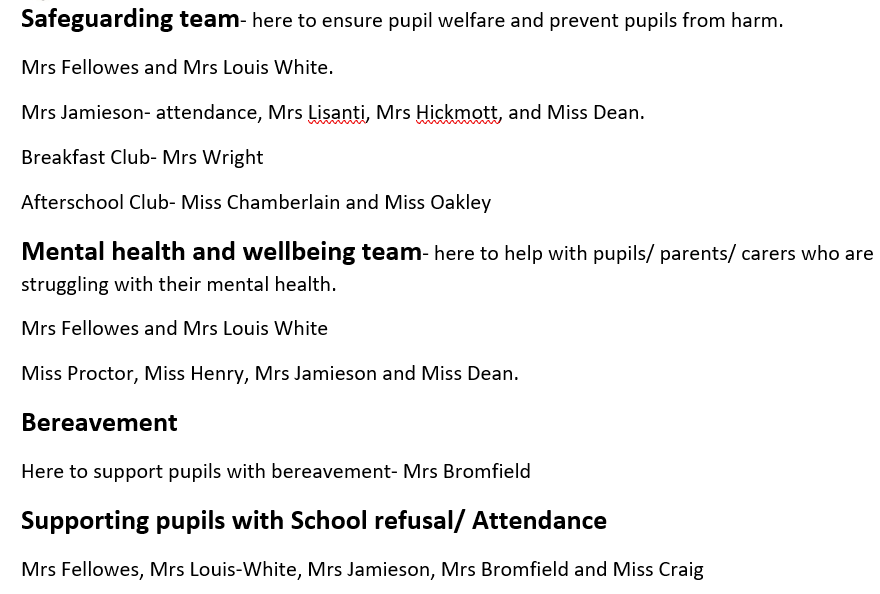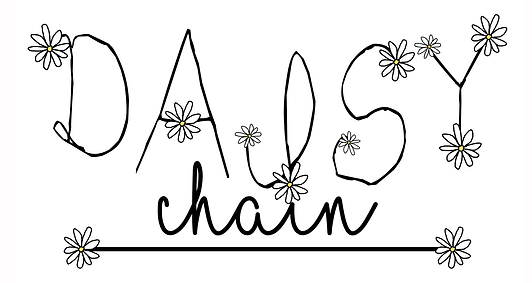 We are so lucky to have Daisychain Children's Centre at Abbeys. The staff are wonderful and they work tirelessly to support local families.
If you need support with anything pop in and see Lisa, Kelly and the team.
Daisychain are offering lots of new sessions see below!
FABULOUS FOUNDATION STAGE
Our new Foundation Stage children have made a fantastic start to school life. They are happy and engaging with lots of new activities. They are making new friends, learning the school rules and values. Sometimes when I am having a tough day, I go into their classroom and I immediately cheer up!
In Foundation stage we look to see that children are displaying the characteristics of effective learning.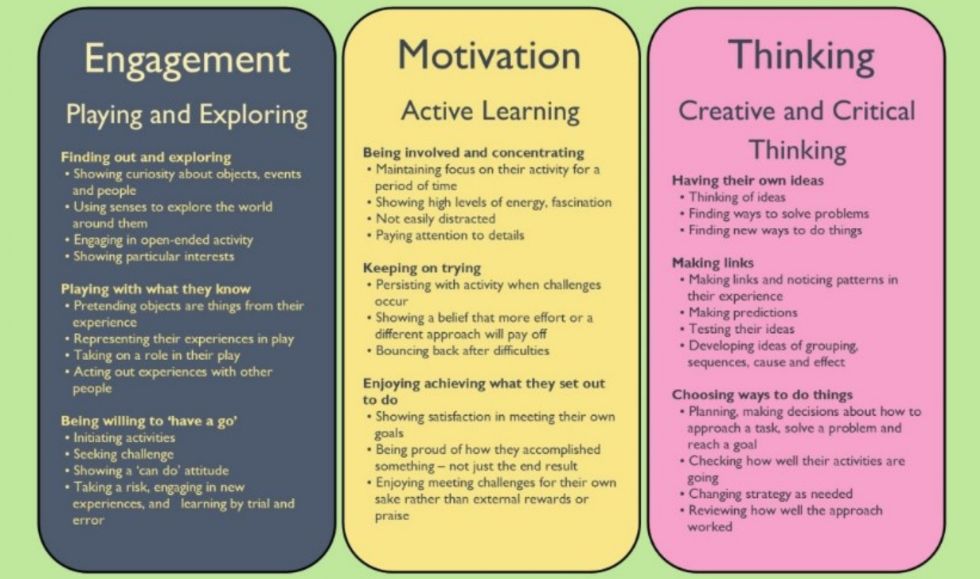 In the photos below you can see the that the children are all engaged. They are thinking independently, sharing, communicating, working collaboratively and experimenting. They are curious about new materials and are over-coming obstacles independently! Well done children!
GARDENING GALORE
THANKS to all the parents/ carers that helped to tame the Forest school area! It had really over-grown over the summer and it is now ready for the children. Forest school sessions are fortnightly- to find out more please visit our website!

Last year Kane won the heaviest conker competition. It was great fun!
This year we are going to get more creative!
This time the challenge is to make something fun out of CONKERS!
The competition closes on Friday 13th October!
Please hand entries to me- please label them with the child's name and class!
And last by not least... Today we say goodbye for a short while, to Mrs Migliazza who is off to have her baby!
We wish you all the best- no sleepless nights or exploding nappies!
We cannot wait to meet the little one when he arrives!
HAVE A LOVELY WEEKEND EVERYONE!